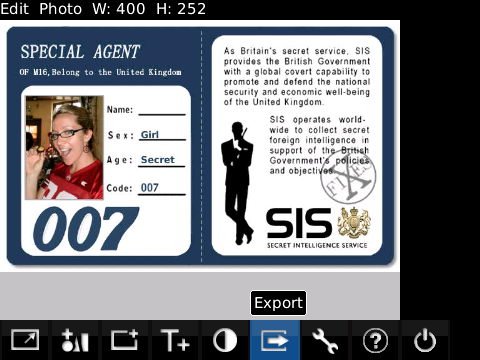 Tag:
PhotoClub
immmooo
Overview :
free PhotoClub v2.4.0 - Optimize Photo n Make Collages
size:2.52 MB
model: Pearl 9100 3G, Pearl 9105 3G, Curve 9300 3G, Curve 9330 3G, Bold 9650, Style 9670, Bold 9700, Bold 9780, Bold 9788, Curve 9220, Curve 9350, Curve 9360, Curve 9370, Torch 9850/9860, Torch 9800, Curve 9380, Bold 9790, Torch 2 9810, Bold 9900/9930, 9981
Description:
PhotoClub can help you to adjust, crop, add effect to your photos, add cliparts and frames, now this version, you can make more beautiful collages and share them via your SNS, that will be really attractive!
★★Promotion: Please download and leave your encourage review at BAW, and then email us with subject: "PhotoClub" and your phone PIN to unlock it!
**Tips: To move a clipart or photo in QWERTY models , via 'alt+navi', speedy movement via 'shift+navi'.
1. This version, you can make collages, that is the most popular way to showing your images at SNS;
2. More comfortable and easy operating UI(layout, buttons) for OS7 devices ;
3. More cliparts, frames and other items, enable you to DIY more funny photos;
4. Share via SNS, share the funny with your friends;
It is ***Regional Selections Winners of 2010 BlackBerry Super Apps Challenge!*** Come to download and experience it, Due to more than 5000 users' nice feedback, it will not let you down!
Features:
1. Adjust Photo, Add Clipart, Add Frames, Add Effect and Add Custom Elements, and every functions you need...
2. Friendly UI and Original funny cliparts;
3. Lifetime free update forever;
Important Tips:
1. To move a clipart or photo in QWERTY models , via 'alt+navi', speedy movement via 'shift+navi'.
2. You may resize the photo firstly to enjoy a speedy and smooth operation.
3. Custom elements must be in transparent .png format.
Guarantee satisfaction:
Welcome your encouraging comments! If you find a bug or have a feedback, kindly write email to us, we can assist you well, because we could not reply comments at BlackBerry App World reviews.