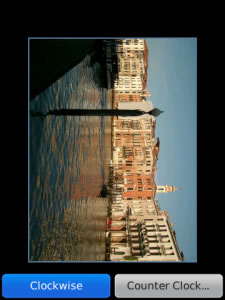 Tag:
Ultimate
Photo
Editor
Overview :
Model:
Blackberry 82XX Series (240*320) Pearl Flip Devices Models: 8200, 8220, 8230/Blackberry 8350i (320*240) Related Devices Model: 8500, 8520, 8530, 9300(Kepler), 9330/Blackberry 83XX Series (320*240) Curve Devices Models: 8300, 8310, 8320, 8330 / Blackberry 87XX Series (320*240) Devices Models: 8700c, 8700r, 8700f, 8700g, 8703e, 8707, 8707g, 8707v .etc /Blackberry 88XX Series (320*240) Devices Models: 8800, 8820, 8830 .etc /Blackberry 89XX Curve Series (480*360): 8900(Javelin), 8910(Atlas), 8930, 8950, 8980/Blackberry 90XX Bold (Onyx) Series (480*320) Devices Models: 9000, 9020(Onyx)/Blackberry 96XX Tour (Niagara) Series (480*360):9600, 9630, 9650(Tour2), 9700(Bold2), 9780, Dakota, Apollo /Blackberry 95XX Storm Series (360*480):9500, 9510, 9520, 9530, 9550(Storm2), 9570(Storm3), 9800(Torch), Torch2/Blackberry Pearl 3G Series (360*400) Devices Models: 9100, 9105, 9670(Style)
Description:
Photo Editor Ultimate Free is the ultimate free photo editor for your BlackBerry®! You can edit your images easily and send them to all your friends. A menu item will be shown when you use the file explorer and select images, which makes it easy to start editing.
Update 2.6:
We have received a lot of feedback from the previous versions and for that we have created Photo Editor Ultimate Free completely from the ground up again! The new version is sometimes 4X faster, will show a wait indicator describing what is being calculated at the moment, contains a new interface, and has more options! If you upgrade, make sure you uninstall the previous version.
Features:
Open file dialog with image preview
Menu item in file viewer for images
Rotate
Change the brightness
Change the contrast
Resize
Apply color effects (sepia, negative, grayscale)
Partly color the image by (see screenshots)
Save the image to the memory or sdcard using a save file dialog
Send image by email as an attachment
Upload to Imgur, and copies the url to the clipboard
In case you want to start over, you can reload the image
When you buy the full version you will get the following extra features:
Apply retro color effect
Mirror an image over the x –axis, y-axis and/or diagonal
Crop the image (cutout a specific part of the image)
Apply effects: Horizontal wobble, Vertical wobble and/or smoothen the image
Add text to the image (change font color, size and style)
Paint on the image (change paint color and size)
Combine two images horizontal and/or vertical
Combine two images by overlaying an image on top of the other
Upload to twitter with TwitPic
Upload to GlowFoto, and copies the url to the clipboard
Upload to Tumblr
Upload to Imageshack, and copies the url to the clipboard
Post to your own server (with the POST method)
Keywords:
Photo, editor, photoshop, edit, editing, photos, images, imaging, image, correct, revise, rotating, left, right, clockwise, counter clockwise, bright, brightness, contrast, contrasting, resizing, resize, resized, color, colors, sepia, negative, gray scale, gray, scaling, flip, flipping, text, texting, words, word, save, send, upload, uploading, TwitPic, Imgur, GlowFoto, Tumblr, Imageshack, email, e-mail, mail, post, wallpaper, wallpapers, fill, fit, mirroring, retro, old-fashioned effect, dated effect, historical effect, partly color, color drop, drop a color, color part, complete, combine, overlay, overlaying, combining, combine images, combine photos, chain, dye, coat, free, money, cheap, no money, no cash, no coins