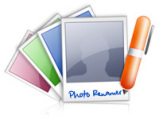 Tag:
Photo
Renamer
Overview :
Photo Renamer - blackberry apps download
Description:
Just check the "Enable Photo Renamer" box to run the application on startup.
Key features:
•"Ask me before renaming" option every time you make a photo. Otherwise Mobiola® Photo Renamer does it automatically.
•Easy to understand names for your photos. A new name looks like Prefix + Date + Suffix + Ordinal Number.
•The app works on the newest BlackBerries like 8900, Bold, touch-screen Storm etc.
Model:
Blackberry 82XX Series (240*320) Pearl Flip Devices Models: 8200, 8220, 8230/Blackberry 8350i (320*240) Related Devices Model: 8500, 8520, 8530, 9300(Kepler)/Blackberry 89XX Curve Series (480*360): 8900(Javelin), 8910(Atlas), 8950, 8980/Blackberry 90XX Bold (Onyx) Series (480*320) Devices Models: 9000, 9020(Onyx)/Blackberry 96XX Tour (Niagara) Series (480*360):9600, 9630, 9650(Tour2), 9670, 9700(Bold2), 9780 /Blackberry 95XX Storm Series (360*480):9500, 9510, 9520, 9530, 9550(Storm2), 9800(Torch)/Blackberry Pearl 3G Series (360*400) Devices Models: 9100, 9105