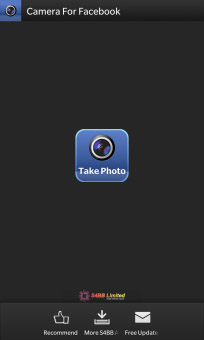 Tag:
Facebook
s4bb
Camera
BB10
Overview :
S4BB Limited has released a new update for Camera for Facebook for BlackBerry® 10. The new update makes the app compatible with the Q10. Besides, reported bugs have been fixed, improving the overall performance of the application.
Camera for Facebook is the perfect app for any photographing socialite. Take and share your dearest moments with the click of a button without ever having to switch applications!

File Size: 11 MB
Required Device Software Operating System: 6.0.0 or higher
BB10 Smartphone: 10.0.0 or higher
model: Z10, Q10
Pearl 9100 3G, Pearl 9105 3G, Curve 9300 3G, Curve 9330 3G, Bold 9650, Style 9670, Bold 9700, Bold 9780, Bold 9788, Torch 9800
Blackberry 9220, 9310, 9320, 9790, 9810, 9850, 9860, 9900, 9930, 9981

Description:
Finally, this app is available on BlackBerry®! You can now take a photo and upload it to your Facebook account with just one click.
Features:
- Connects with your Facebook account
- Upload a photo with just one click
- Add custom descriptions
- Single click photo taking
Note: This application does not integrate with the Facebook application that is installed on your phone. You need to log into your Facebook account within the app and authorize the app to upload photos.