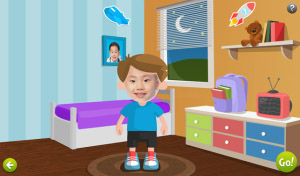 Tag:
Pre K Skills
Overview :
Pre K Skills v1.0.1 - Math Shapes Colors Size and more for Preschool kids
File Size: 8286 KB
Required Device Software:
Tablet: 2.0.1 or higher

Description:
Pre-K Skills: A free educational preschool game to help your preschool kids learn shapes, colors, math & more!
Looking for a preschool game that will teach your kids all they need to know before stepping into preschool? Look no further, because Pre-K Skills is just the thing for you and your preschooler!
Pre-K Skills consists of all the skills that kids learn in preschool, rolled up into one beautifully designed app. A highly interactive game that will make learning fun and keeps your child happy and entertained for hours. This educational game will help your kids learn shapes, colors, math & counting, size and will improve your child's memory.
What your child will learn:
• Shapes: Learn to identify different shapes like squares, circles, triangles, spheres, pyramids and more.
• Counting: Learn to count dots, shapes and other objects up to 10. ($)
• Comparing: Learn to compare different groups of objects. ($)
• Positions: Understanding various positions like inside & outside; left & right etc. ($)
• Classification: Classifying objects as same or different and also classifying objects by their colors.
• Size: Learning about sizes like tall & short, wide & narrow etc. ($)
• Money: Identifying various coins like pennies, nickels, dimes and quarters and learning to count money. ($)
The skills marked with $ can be bought as in-app purchases.
Why you and your child will love it?
• Medals: A medal for every skill mastered, so your preschooler is motivated to learn more.
• Books: To help your child get started before all the activities
• A room filled with goodies including a photo frame to hang up a picture of your preschooler, a television set and a wall of medals that your child has earned
This preschool game is perfect for children aged between 2 and 4. Pre-K Skills is based on the most widely-used Math practice sites developed by renowned educational experts. Nothing less than the very best for your children, right?
Both you and your child will enjoy playing this preschool game. Pre-K Skills is packed with colorful and beautiful graphics which will stimulate your preschooler's mind, improve their memory and help them learn the fun way. The medals awarded serve as a positive reinforcement to make sure your child is happy while learning.
Get Pre-K Skills now and watch your child transform into a little genius & sail through Preschool! Let your preschooler experience the joy of learning with Pre-K Skills!