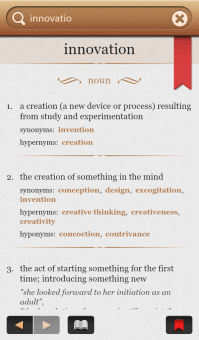 Tag:
Dictionary
Overview :
Dictionary+ : English Dictionary and Thesaurus v1.0 for blackberry playbook apps
File Size: 22 MB
Required Device Software Operating System:
2.0.1 or higher

Description:
Dictionary+: A simple and offline English dictionary and thesaurus, with over 147000 words. Came across a fascinating new word while reading an English Classic? Writing an article & looking for a more sophisticated synonym for a rather simple word? Stuck on your crossword puzzle? Dictionary+ is here with all the answers! Dictionary+ is your pocket English dictionary and thesaurus right on your BlackBerry PlayBook. This offline dictionary/thesaurus offers you the meaning of English words along with their synonyms, antonyms, usage examples, spelling suggestions and more! All these features make Dictionary+ a handy tool for quick reference, looking up definitions, spellings, similar and related words and help you enhance your English vocabulary. Dictionary+ features: • Extremely fast, simple and easy to use • More than 147000 words • This Dictionary / Thesaurus works without an internet connection (offline) • Use this thesaurus to look up synonyms, antonyms, hypernyms (les specific), hyponyms (more specific), meronyms (part of) & more! • Example sentences to help you understand the contextual meaning of a particular word • An intelligent search which suggests possible words and correct spellings as you type • Use the ? wildcard for any character or * for a group of characters in the search • Save your most used or interesting new words as bookmarks • Keep track of the most recent words that you've looked up in the current session, with the recent history option • Based on the Princeton University WordNet Project. Whether you're a writer, teacher, student or just someone with a passion for the English language, Dictionary+ is a pocket thesaurus you would love to own! Get Dictionary+ now and learn new words, definitions and spellings on-the-go!