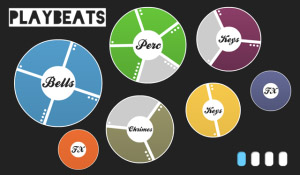 Tag:
Playbeats
playbook app
Overview :
free Playbeats v1.0.1 for playbook apps

Required Device Software: 1.0.0 or higher
Details:
Playbeats is a fantastic musical recreational app. Choose from various simple looping parts for a number of instruments to build up an interesting song. Ideal for beginner musicians and children, but generally fun for everybody.
Start by clicking on sectors of the circles and see where the music takes you. Also acts as a great backing track for any musician.
Note from the developer: I appreciate all reviews and I thank those who have left a review in the past. If you have a negative experience with the application, or it appears to be working incorrect, I would really appreciate it if you contacted me directly so that I can help solve the issue. Thank you. I hope you enjoy the application.