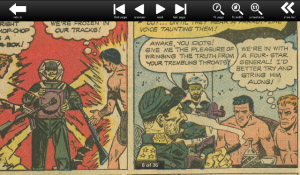 Tag:
Comics
Overview :
Comics v1.1.1 for playbook apps

Required Device Software: 1.0.0 or higher
Details:
Your shiny BlackBerry® PlayBook™ is the perfect device for reading comic books and now you can. Comics is a comic reader specifically designed for the PlayBook.
Start reading your comics everywhere and download the Comics application. It will allow you to escape reality wherever, whenever and even save the page your at if you have to run from that other dimension.
Coming soon:
* Gesture support (pinch-to-zoom and swipe)
* A library to categorize all your comics
* Support for more comic book types