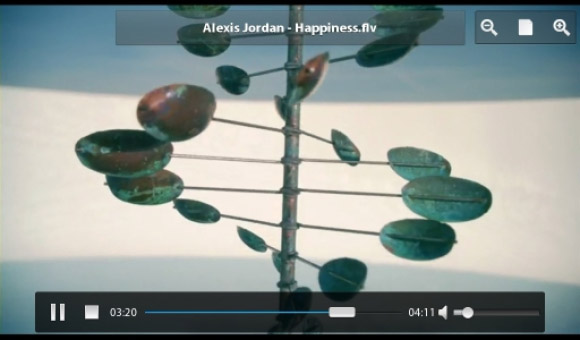 Tag:
MovieFlvPlay
flv
Overview :
A local FLV file player with the simple function which play the FLV file of the local SD card .
Support drag the progress bar to jump playback progress, very practical.
Version: 2.2.0
File Size: 839 KB
Required Device Software Tablet: 1.0.0 or higher
Description:
Play your favorite flash videos on your BlackBerry® PlayBook™!
The BlackBerry® PlayBook™ can not directly play Flash videos (FLV) saved on the device.
This player allows playing Flash videos (FLV and F4V) stored in the 'videos' directory.
If you want to get RID OF THE CONTROLS while watching the movie, just use your finger to swipe from the top panel down to the screen midway and the menu will disappear leaving your with an unobstructed view of the movie.
IMPORTANT! : The App needs access to your PlayBook files, please grant access at first start up!!
How?
- Put your favorite .flv movie file or clip in your BlackBerry® PlayBook™ 'videos' folder
(ex: Z:\videos\The_Hitchhiker's_Guide_To_The_Galaxy.flv)
- Launch MovieFlvPlayer
- Use the ZOOM icons to remove the black borders on top and bellow
- .FLV and .F4V support (from 1.0.2)
Description
- Create your own playlist
- Playlist with random play
- Support for all folders (downloads, photos, ...)
- FullScreen View
- Added workaround for some files not showing (ref http://www.playbookprojects.com)