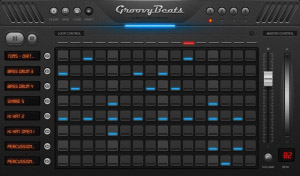 Tag:
Groovy Beats
Overview :
Groovy Beats v1.0.2 - DJ Mixer for BlackBerry PlayBook apps
File Size: 7483 KB
Required Device Software:
Tablet: 2.0.1 or higher

Description:
Love beat-mixing and creating foot-tapping music? Think you could be the next Armin Van Buuren or David Guetta? Then get set to mix like a DJ with
Groovy Beats!
Groovy Beats is a stylish, intuitive and easy-to-use virtual DJ sound mixer for your BlackBerry PlayBook. Designed for both amateurs and professionals, this music mixer makes it surprisingly easy to create exciting music with just a few taps and swipes!
How does it work?
Groovy Beats consists of a grid with several squares. Each row on the grid corresponds to a different instrument/sound while each column corresponds to a different point in time. All you need to do is tap on any of the squares to select them or just swipe your finger across the grid and watch the squares light up! After you're done, press play and sit back & listen to your musical masterpiece!
Features:
- Choose from a huge collection of sounds. Browse through Groovy Beats' sound library and buy even more groovy sound packs!
- Save your favorite tracks and play them back whenever you want
- Wanna create a lengthy track? Groovy Beats let you create and play up to 4 pages of beats!
- Loop: Hit the Loop button to play a particular beat in a continuous loop
- Tempo: Get creative and adjust the BPM (Beats Per Minute) to create interesting and unique rhythms. Turn the tempo up a notch to compose some peppy and fast-paced music!
- Draft: Toggle between Draft and Final play modes. Draft mode allows quick playback and editing on the fly, while the Final mode is more precise.
Groovy Beats Sounds:
- Bass/ Kick Drums
- Snares
- Cymbals
- Hi-Hats
- Crash Cymbals
- Percussions
- Synth/Bass
- Guitar
- Piano
- Loops
- and more...
Groovy Beats Sound Packs:
- Africa
- Rock/Pop
- Trance
- Dance
- Hiphop
- Arabian
Ready to see what this DJ mixer can do? Grab your headphones and sway to your beats with Groovy Beats!