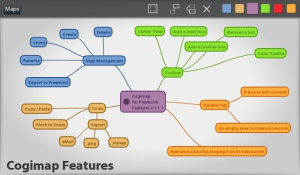 Tag:
Cogimap
playbook app
Overview :
Cogimap v1.2.0 for playbook apps
Details:
Professional mindmapping app for the BlackBerry® PlayBook™.
*** THIS RELEASE FIX THE DOUBLE TAP BUG ***
*** BUT it also introduce a new bug where Cogimap would not start correctly on some occasion. ***
*** Sorry for the inconvenience, the version 1.2.1 is already submited and will fix this issue ***
*** In the meantime, the quickfix would be to create a 'cogimap' subfolder under the documents folder. ***
*** This can be done using for example the 'AIR Browser' free application on the App World ***
*** ensure that the folder /documents/cogimap exists and restart cogimap ***

Cogimap is an awesome support tool for intensive brainstorming session.
Mind mapping helps you to share, discuss and improve your ideas .
This is a fantastic visualization tool that can be used during professional meeting, or even during your day to day task, like taking note, handling todo lists and so on.
Your mind is now at your fingertip.
New Feature in Cogiamp v1.2:
* Add Export / Import to .cogimap format (backup, map exchange...)
* Speed improvement in node dragging
* UI update for the menu and toolbar (Swipe down to see the menu)
Features:
* Double tap to edit content
* Double tap to create a new idea
* Drag and Drop idea to change relations
* Assign colors to related ideas
* Create, Delete and Clone all your mindmaps
* Export your maps to freemind file format
* Auto Save
Technically speaking, everything is stored in a fully transactional database, and each actions is automatically saved. You will never lose any valuable map you are working on and there is no need for a save button.
The undo / redo functionality is coming in future releases.
Fixed in release 1.2:
* Double tap misbehavior since the OS 1.0.6 update has been fixed
* Visual glitch on toolbar icons has bee fixed
Features to come after:
* Multitouch gesture (Zoom, Pan ...)
* Export to other mindmap formats
* Email integration (when email client available)
* Copy / Paste
* Undo / Redo
* Many more... (see http://bugs.cogimap.com for bugs and feature requests)