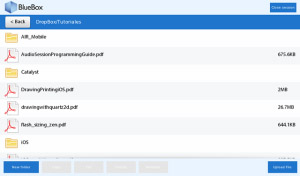 Tag:
PlayBook
BlueBox
Overview :
free BlueBox v1.0.1 for BlackBerry PlayBook download

Required Device Software: 1.0.0 or higher
Details:
BlueBox is an application that allows you access your DropBox account in a very simple and intuitive interface from your BlackBerry® PlayBook™ Tablet.
In this first version BlueBox allow you navigate, create folders, copy, cut and rename files.
Soon we will be adding support to upload and download files using the power of BlackBerry® PlayBook™ shared file system.
You must have a DropBox account already registered, in future version we will add account creation too.