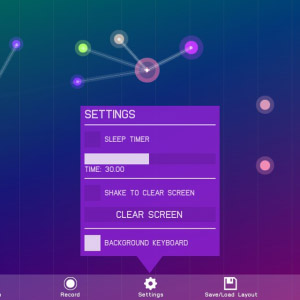 Tag:
NodeBeat Pla
Overview :
NodeBeat Play v1.0.1 for blackberry playbook applications
File Size: 3400 KB
Required Device Software:
Tablet: 2.0.0 or higher

Description:
NodeBeat, the award-winning music app, has finally come to the BlackBerry® PlayBook™!
Make music with NodeBeat, the intuitive and fun visual music app for all ages. Whether you're 2 or 92, NodeBeat will make you sound like a pro. Create your own music in a matter of minutes or listen to NodeBeat generate its own. Easily save and record your creations to share with your friends. Discover your musical genius with NodeBeat!
★ General Features ★
- Friendly, Intuitive and Easy to Use
- Record and Save Creations
- Drum and Octave Generators
- Preset Layouts to Help Get You Started
- Sleep Timer for Falling Asleep to NodeBeat
★ Audio and Rhythm Features ★
- 20 Musical Scales
- All 12 Musical Keys Signatures
- 7 Octave Range
- Multitouch Background Keyboard/Piano
- Audio Waveform Adjustment (Sine, Triangle, Sawtooth, Square)
- Creative Sound Sculpting (Echo, Attack, Decay, Release)
- Adjustable Tempo (BPM) and Note Beat