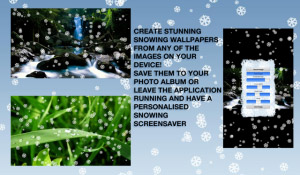 Tag:
Christmas
PlayBook
snow
Wallpapers
screensaver
Liquid-Photo
SnowPapers
themes
Overview :
SnowPapers v1.0.0 for playbook apps
Required Device Software:
Tablet: 1.0.7 or higher

Description:
SnowPapers allows you to create custom Snowing Wallpapers from your personal photos.
Choose an image from your Playbook to begin adding a cool snowing effect to it.
Choose to save the image to your photo album or leave the application running to have a nice snowing screensaver.
Customise the snow effect with the following settings.
* Snow Intensity.
* Snow Speed.
* Snow Scale.
* Gravity.
* Wind.
If you like this application why not check out our liquid-photo application.