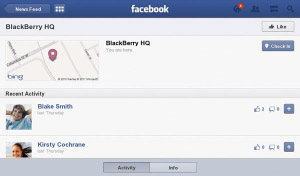 Tag:
PlayBook
Overview :
PlayBook v2.1.0.36 for playbook apps
Required Device Software:
Tablet: 1.0.0 or higher

Description:
Facebook® for BlackBerry® PlayBook™ tablet is an optimized application that delivers a highly engaging experience by integrating popular features and functionality of Facebook®. New to v2.1 is Facebook Groups which lets you share and interact with the groups that you are interested in the most. You can view groups that you're a member of, post updates, photos and videos, view profiles of group members and send messages, and get notified of new group posts and interactions so you never miss an update. Also in v2.1, the addition of photo and video buttons on the Photos tab makes it even easier to view and upload photos.
Download today and experience Facebook on a whole new level.
Key New Features in Facebook for BlackBerry PlayBook v2.1:

• Facebook Groups
• Improved Media Access