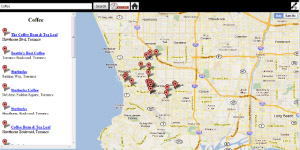 Tag:
Google
Search
Overview :
Place Search with Google v1.0.0 for blackberry playbook
Required Device Software
1.0.0 or higher
Description
Easy to use Place Search with Google app, helps you quickly find list of nearby places including coffee shops, restaurants, movies, etc. Built using the new Google Maps Places API this app helps you locate nearby places with details. Place Search also comes with Blackberry Playbook built in pinch zoom functionality in addition to GPS location finder for quick searching.
Features Include:
- Search for Places(Coffee, Restaurants, Bars, etc)
- Search custom places
- Search for addressses
- Place Search Autocomplete
**Please note usage of this app is based on Google Maps terms of use.
Please send suggestions and comments to s.center24@gmail.com