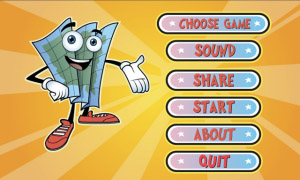 Tag:
GeoGeo
Overview :
GeoGeo v1.1.0 (30 Day Free Trial)
Required Device Software
1.0.3 or higher
Description
GeoGeo makes geography learning and quizzes fun and entertaining for all ages! The best geography game with cool graphics and interactive maps.
THIS APP REQUIRES Adobe Air (It's free). It will be automatically be installed. That's it...time to play GeoGeo.
GeoGeo is a fun way to learn and challenge your knowledge of U.S. State geography. Learn or quiz yourself on names, capitals, abbreviations, nicknames and shapes of the U.S. States in this fun geography game. Each game consists of a series of questions based on the game that you choose. A question and an interactive map (tap on the states)will appear with a choice of 3 different states to choose from. Just tap on the state that you think is the correct answer (double tap for more consistent selection). Your goal is to tap on the correct state as quick as you can (the game has a timer for scoring). You can also pinch, zoom and move the map with your finger to help select small states.
Features:
- Multiple game options: U. S. States, state abbreviations, state capitals, state nicknames.
- Interactive map: Tap on the map to make selection, pinch and zoom, move map with finger.
- Turn sound on and off.
- Share GeoGeo on Facebook with friends
- Includes option to save high score (name) on each game.
- Cool graphics
- Interactive state maps
Perfect for children learning geography or challenging your geography knowledge. Geogeo helps develop the memory of state, state capital locations.