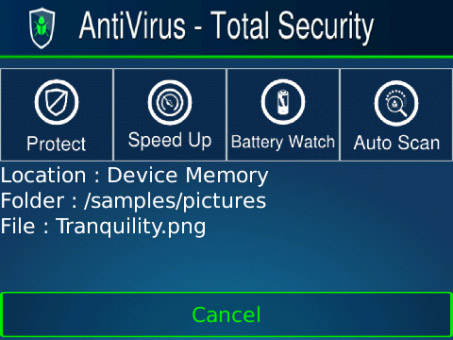 Tag:
bb mobile app
Anti Virus
Overview :
Anti Virus - 360 Security mobile apps for blackberry
Secures against unwanted phishing, malware, spyware, and malicious viruses such as trojans etc.
Anti Virus Scans:
*Scan apps, settings, files & media in real time
*"Kill Apps that contain Virus or Malware
*Browse the web safely & securely
*Monitor battery
*Speed Up Device Performance with just one Click
Features:
- Folder Scanning scan
- Phone Cleaner
- Application Scan
- Battery Status Viewer
- Easy-to-use
- Suitable for any device
- Ultra fast scanning engine
- Minimum system resources required
- Scan installed apps, SD card content, and new apps automatically
Virus Data Base will be updated from time to time to keep your device Protected against new viruses. These Updates will be FREE of cost. Please ensure that you always keep your Anti-Virus updated to ensure a 360 Degree Security!

Suitable for all BlackBerry models.