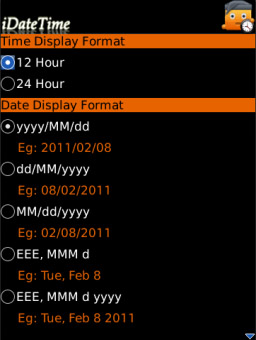 Tag:
iDateTime
Overview :
iDateTime - Menu Clock and Date 4.1.1 for blackberry apps
size: 29 kb
Model:
Blackberry 81XX Series (240*260) Pearl Devices Models: 8100, 8110, 8120, 8130/Blackberry 82XX Series (240*320) Pearl Flip Devices Models: 8200, 8220, 8230/Blackberry 8350i (320*240) Related Devices Model: 8500, 8520, 8530, 9300(Kepler), 9320, 9330, 9350, 9360, 9370, 9380/Blackberry 83XX Series (320*240) Curve Devices Models: 8300, 8310, 8320, 8330 / Blackberry 87XX Series (320*240) Devices Models: 8700c, 8700r, 8700f, 8700g, 8703e, 8707, 8707g, 8707v .etc /Blackberry 88XX Series (320*240) Devices Models: 8800, 8820, 8830 .etc /Blackberry 89XX Curve Series (480*360): 8900(Javelin), 8910(Atlas), 8930, 8950, 8980/Blackberry 90XX Bold (Onyx) Series (480*320) Devices Models: 9000, 9020(Onyx)/Blackberry 96XX Tour (Niagara) Series (480*360):9600, 9630, 9650(Tour2), 9700(Bold2), 9780, 9790, Dakota, Apollo /Blackberry 95XX Storm Series (360*480):9500, 9510, 9520, 9530, 9550(Storm2), 9570(Storm3)/Blackberry Torch Series: 9800(Torch), Torch2, 9810, 9860/Blackberry Pearl 3G Series (360*400) Devices Models: 9100, 9105, 9670(Style)/Blackberry 99XX (OS 7.0) Series (640*480) Devices Models: 9900, 9930, 9981

Description:
iDateTime is an application that displays Date and Time conveniently on your Option Menu while running Facebook, Twister, Yahoo Messenger, Windows Live Messenger, WhatsApp Messenger, MySpace, Youtube, AIM, Google Talk, Flixster, Games, Browser, Email, and other applications on your BlackBerry® Smartphone. The ability of checking the current Date & Time while running other applications will not be compromised anymore.
While using other applications, just with a single click on menu button on your device, the Date and Time will be clearly displayed on the top of the option menu list in the preferred format. It is a useful application that enables users to check the Time or Date easily without having to terminate the applications currently running.
ALL UPGRADES WILL BE ABSOLUTELY FREE!
Features:
1) Display Date and Time on Option Menu while running other applications.
2) Enable you to check date or time more conveniently
3) Save time on switching between date/time features and other applications
3) Update Date and Time continuously.
4) Enable/ Disable the iDateTime application easily.
5) Provide different Date and Time formats.
6) Provide high level of usability.
* For BlackBerry® Storm™ and BlackBerry® Storm2™ please follow the instructions to disable the compatibility mode to ensure the application display properly.
1. Go to "Options"
2. Go to "Advanced Options"
3. Go to "Applications"
4. Select the "iDateTime"
5. Press the menu button on your device
6. Click on "Disable Compatibility Mode"
7. Restart your device