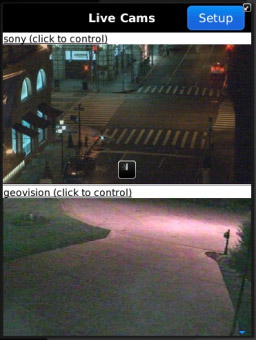 Tag:
Camera
Overview :
Live Cams IP Camera 1.6.7 for blackberry apps
size: 250 kb
Model:
Blackberry 95XX Storm Series (360*480):9500, 9510, 9520, 9530, 9550(Storm2), 9570(Storm3)/Blackberry Torch Series: 9800(Torch), Torch2, 9810, 9860

Description:
Remotely view and control your IP camera, DVR and NVR using phone. pan tilt zoom and preset support.
note:
may not work over some corporate bes/bis networks which block/filter traffic.
Great selection of devices supported:
3xLogic 4UCAM 4XEM A-Link AbelCam ABS ABUS ACTi ADT Airlink AirLinkWiFi Airship Alinking Allnet APC Apex Aposonic Appro ArcVision Arecont Argus Surveillance Arm Electronics Asante ASIP Asoni Astak Avermedia Avigilon AVIOSYS AVS AVTECH Axis Basler Bewan BiQu Blue Iris Bluecherry BlueJay BluePix Bosch Brickcom BVUSA BWA Canon CCTVHotDeals Celius Cellinx Chubb CIP Clas Ohlson Compro Conceptronic Convision CPCAM Creative CVLM Dedicated Micros Defender Digicom Digimerge Digitus Digix DiVis DLink Dtt DVRUSA DynaColor EasyN EasySE Edimax Elmo Elro Eminent Etrovision Everfocus EvoCam ExacqVision Exelon EYEMAX EyeSpy247 Eyseo EZCam Falcon Fitivision FlexWatch FoodTec Solutions Foscam Gadspot GE Genius Geovision GKB go1984 Goscam Grandstream Grandtec Hama Hawking Tech HDS Heden HeiTel Hesavision HooToo Hungtek Hunt Electronics I-View ICam ICAMView ICanTek iCatch IGuard iKONiC Imogen imotion Inscape Data INSTAR Intellinet IPUX IQinVision JDL Digital Systems JVC KGuard Laser LevelOne Linksys Loftek Logilink Lorex LTS Lumenera Marmitek MayGion Merit Lilin Mesa Messoa Microseven Mobotix NetMedia NetZeye Neugent Night Owl NuSpectra NUUO Nuvico Opticam Optiview Optivision Orite OvisLink Panasonic Pelco Piczel Pixord Planet Planex Plustek PROCCTV PY Software QNAP RaySharp Rayvision Remote Eyes Repotec Rifatron Rimax Samsung Sanyo SCD Security Labs SecuritySpy Seteye Sharx Shixin Sitecom SmartEye Solwise Sony SparkLan Speco Tech StarDot Storage Options SuperCircuits SVAT Swann Sweex Talon Talos TechVision TELCA Telefonica Tenvis TomTech Toshiba TP-Link TRENDnet True-H DVR TSM Unitek UniVision UTC Vantage Veo/Vidi Vidi Vilar/Vipcam VisionGS VISIONxIP Vitek Vivotek VPON Wansview WebcamXP Well Vision WowWee Y-Cam Yawcam Yoics Yoko Tech Zavio Zoneminder Zonet