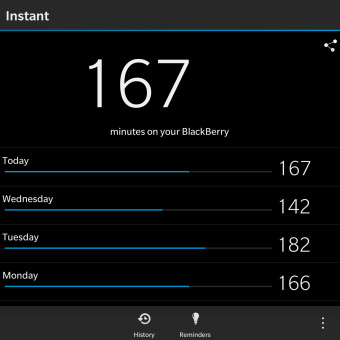 Tag:
Instant
Overview :
Instant - Track device usage 1.4.0.8 for blackberry passport apps
*50% Off- Black Friday Sale!*
Instant is a lifestyle app, automatically tracks the daily usage of your BlackBerry®. It can works seamlessly in the background(headless) tracking how much time you spend on your BlackBerry® everyday.
Key features:
1. Automatically track your BlackBerry® device usage time.
2. Get reminders in the hub with usage time and your daily remaining of the limit.
3. Track history of your daily device usage.
4. Share your usage with your friends with our '#InstantBB' hashtag.
5. Graphs of usage time percent and unlock count added with Instant 2.0.
6. Optimized for all BlackBerry® 10 devices.
Instant will help you balance your life so that you can focus more on the people around you. It is great for BlackBerry® prosumers to analyse their daily usage.
Supported Devices:
BlackBerry Passport
BlackBerry Q10
BlackBerry Q5
BlackBerry Z10
BlackBerry Z3
BlackBerry Z30
Porsche Design P9982
Porsche Design P9983