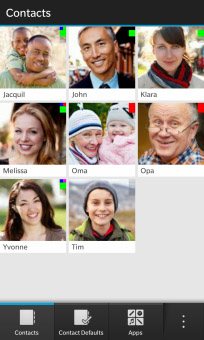 Tag:
BB10
BeBuzz
Overview :
LED flashing of the Blackberry custom message remind the software
BeBuzz
have introduced BB10 version, you can realize and distinguish the message recieved from the mobile through a small LED light and the set up of the sound . Support for Twitter, Facebook and other third party applications.
The software is need to be bought for
$2.99
.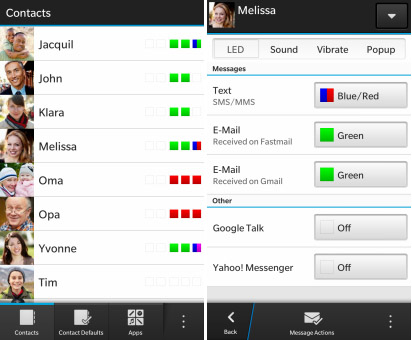 File Size: 762 KB
Required Device Software BB10 Smartphone: 10.0.0 or higher
Model: z10, q10

Description:
Take full control of your BlackBerry® 10 front notification LED! Green for calls from your boss, yellow for e-mails from your girlfriend, blue for BBM messages and "fast disco" for all your Twitter messages.
Finally available for BlackBerry® 10, BeBuzz is the most feature packed and user friendly LED notifier app. Only BeBuzz adds unique features like Repeating Audible Notifiers, On-Screen Popup Notifiers, Text-to-Speech and Customizable Vibrate.
With more than 35 Million downloads and multiple awards BeBuzz is one of the most popular apps for BlackBerry smartphones ever!
IMPORTANT LIMITATION: BeBuzz 10 has to constantly run as an active frame to work properly. If the app is closed it will not function. As soon as this missing functionality is added, we will of course provide a free upgrade!
FEATURES:
- Choose from 7 predefined solid LED and 12 rapid flashing DISCO LED COLORS
- STACK 2 LED COLORS for even more color variations
- Set LED colors and audible reminders for E-Mails, text (SMS), Google Talk and Yahoo Messenger messages from your FAVORITE CONTACTS. See who it is that is contacting you!
- Assign colors for BlackBerry Messenger (only while device is locked), Facebook, Twitter, LinkedIn and incoming and missed calls
- Repeating Notifiers: Keep your phone's audible notifiers repeating until you acknowledge them
- Text-to-Speech: BeBuzz will read your e-mails and text messages out aloud!
- Fully interactive popups for e-mails and text messages. Preview, delete, flag and mark as read e-mails and texts straight from the popup.
- LED notifications and audible reminders will stop when you unlock the phone, peek/open the hub or press any hardware button
- E-mail and text filters. Create notifications for specific messages filtered by message sender or subject/body. Automatically perform actions on filtered e-mail messages (Delete, flag, mark as read, change priority)
- Customizable vibrate for every notification
- Vibrate on call connect/disconnect
- Coverage Indicator: Get your BlackBerry 7 blinking green status light back
- Fully customizable and doesn't drain your battery!