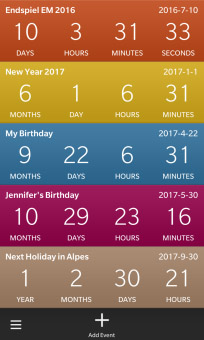 Tag:
Classic apps
Countdown Timer
Overview :
Countdown Timer v1.0.0.2 for blackberry apps
The Countdown-App helps you to monitor the remaining time until important events occurre. Add birthdays, holiday seasons and sporting events to the timer list an watch, in how many years, months, days, hours, minutes and seconds the event will occur.
KEY FEATURES
• Add as many events as you want
• View each event fullscreen
• Change the color-theme of each event entry for better identification
• Add a picture to an event optionally.
• Add countdown-signal
• Support fo Active-Frame
• Share the remaining-time of an event
• Add an event to your calendar
GENERAL FEATURES
• Completely FREE
• Native BlackBerry 10 Cascades app
• Latest BlackBerry 10 version (10.3.2) design language
• Optimized for all BlackBerry 10 devices including BlackBerry Passport
• No internet-connection needed
• No malware
PERMISSIONS EXPLAINED
• Shared Files Access: This permission is required to use audio files from the file system for signal sound
• Calendar: This permission is required to add an event to the calendar app
• Run in Background: This permission is required to update the active frame
Supported Devices:
BlackBerry Classic
BlackBerry Leap
BlackBerry Passport
BlackBerry Passport Silver Edition
BlackBerry Q10
BlackBerry Q5
BlackBerry Z10
BlackBerry Z3
BlackBerry Z30
Porsche Design P9982
Porsche Design P9983