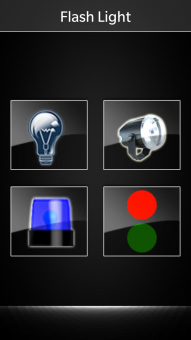 Tag:
Flashlight
Overview :
free Flashlight v1.0.0.1 for blackberry 10 apps
* The brightest, fastest, and most handy LED flashlight!
* The Flashlight you will never forget to bring when in need!
* With the most elegant design and the fastest startup
Never worry about carrying a flash light for finding your key or a keyhole in the dark.
Features:
- Flashlight
- Strobelight
- Policelight
- Trafficlight
- Easy to use interface
Supported Devices:
BlackBerry Q10
BlackBerry Q5
BlackBerry Z10
BlackBerry Z3
BlackBerry Z30
PlayBook
Porsche Design P9982
Porsche Design P9983