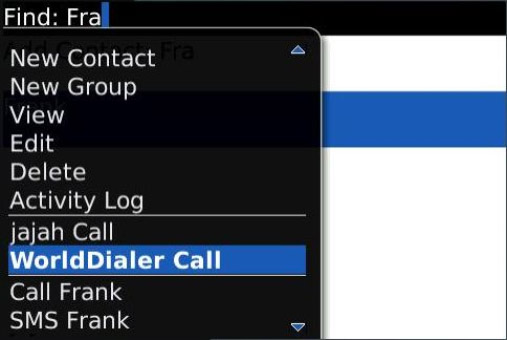 Tag:
WorldDialer
Overview :
WorldDialer - Professional-Grade Phone and Calling Card Tool v2.2.4 - Use Calling Cards with your BlackBerry® Wireless Handheld

Version: 2.2.4
File Size: 100 KB
Required: 6.0.0 or higher
Model: Blackberry 96XX Tour (Niagara) Series (480*360):9600, 9630, 9650(Tour2), 9700(Bold2), 9780, 9790, Dakota, Apollo /Blackberry 95XX Storm Series (360*480):9500, 9510, 9520, 9530, 9550(Storm2), 9570(Storm3) / Blackberry Torch Series: 9800(Torch), Torch2, 9810, 9860/Blackberry Pearl 3G Series (360*400) Devices Models: 9100, 9105, 9670(Style)/Blackberry 99XX (OS 7.0) Series (640*480) Devices Models: 9900, 9930, 9981



Key Features:
- Integrates with the native BlackBerry® applications!
- Dial from your phonebook/phonelog without entering any calling card details!
- WorldDialer can store up to 100 calling cards simultaneously.
- No need to change any number in the details of your contacts.
- Works with virtually every calling card. If you do not have one yet, we recommend cards from SpeedyPin: http://tinyurl.com/speedypin-com
- Home zone setting for local country code
Latest Feature Adds:
- Supported languages: English, German, Spanish Castilian & Catalán
- Remembers last used calling card.
- Supports "dial through" calling cards server side calling card / caller id separation.
- Integrates with BlackBerry® address book and reads contact's phone numbers: Work, Work 2, Home, Mobile, Mobile 2, Other.