Tag:
Memory Refre
Overview :
Memory Refresh Elite 1.2.3 ( blackberry os5 to os7 apps) - In side-by-side trials Memory Refresh Elite performs consistently equal or better than its higher priced competitors. The difference between our memory recovery program and theirs? About ten dollars. Don't be fooled by their high price tag, save memory and your hard-earned money with Memory Refresh Elite!

Version: 1.2.3
File Size: 20 KB
Required: 5.0.0 or higher
model: Pearl 9100 3G, Pearl 9105 3G, Curve 8520, Curve 8530, Curve 8900, Curve 8910, Curve 8980, Bold 9000, Curve 9300 3G, Curve 9330 3G, Tour 9630, Bold 9650, Style 9670, Bold 9700, Bold 9780, Bold 9788, Curve 9350, Curve 9360, Curve 9370, Storm 9500/9530, Storm2 9550/9520, Torch 9850/9860, Torch 9800, Bold 9790, Torch 2 9810, Bold 9900/9930, 9981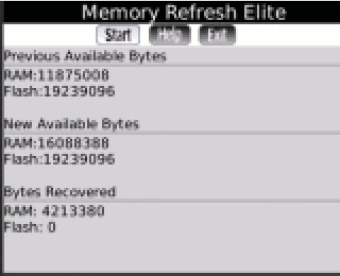 Memory Refresh Elite gives a boost of Flash and Ram memory. Memory Refresh Elite is perfect for high-end users who experience problems with device slowdowns and lock-ups and need a way to maximize performance without a battery pull.
• Memory Refresh Pro does not require a power cycle.
• Memory Refresh Elite does not impede the visual quality of the user interface, perfect for mobile gamers.
• Can be used while other applications are running.
• No device restart is needed!