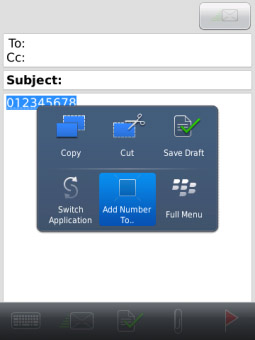 Tag:
xContact
Overview :
xContact 3.3 -- Easy Contacts Manage for blackberry apps
File Size: 18 kb
Required: 5.0 or higher
model: Blackberry 89XX Curve Series (480*360): 8900(Javelin), 8910(Atlas), 8930, 8950, 8980/Blackberry 90XX Bold (Onyx) Series (480*320) Devices Models: 9000, 9020(Onyx)/Blackberry 96XX Tour (Niagara) Series (480*360):9600, 9630, 9650(Tour2), 9700(Bold2), 9780, 9790, Dakota, Apollo /Blackberry 95XX Storm Series (360*480):9500, 9510, 9520, 9530, 9550(Storm2), 9570(Storm3)/Blackberry Torch Series: 9800(Torch), Torch2, 9810, 9860/Blackberry Pearl 3G Series (360*400) Devices Models: 9100, 9105, 9670(Style)/Blackberry 99XX (OS 7.0) Series (640*480) Devices Models: 9900, 9930, 9981

Description:
xContact bring you the features you need most with Contacts manage.

* Add any number to existing/new Contact
* Add SMS sender to existing/new Contact
* Quote a Contact's info when writing a message
xContact is very easy to use, it's always on the menu when you need it. All you need is click, click and done.
When you get a friend's new number, you need to save it to your Contacts. You can use xContact right on menu, select his/her name and done. You can choose to save the number to a existing Contact or create a new Contact.
If you get a SMS/Call from a new number, you need to save it to your Contacts. Easily as before, you can use xContact right in the menu.
When asked about a Contact's number or email, you can reply and find xContact on the menu. Select a name and insert the infomation you need. This feature also works on other apps. your Calendar, Task, Memo and almost anywhere you writing something.
Get xContact now and make your Contacts easy to manage. If you need more feature, just contact us.