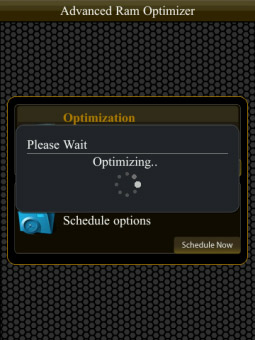 Tag:
Advanced
Ram
Optimizer
Overview :
Advanced RAM Optimizer 2.1 for os5.0+ applications
File Size: 899 KB
Required: 5.0.0 or higher
Model: Blackberry 89XX Curve Series (480*360): 8900(Javelin), 8910(Atlas), 8930, 8950, 8980/Blackberry 90XX Bold (Onyx) Series (480*320) Devices Models: 9000, 9020(Onyx)/Blackberry 96XX Tour (Niagara) Series (480*360):9600, 9630, 9650(Tour2), 9700(Bold2), 9780, 9790, Dakota, Apollo /Blackberry 95XX Storm Series (360*480):9500, 9510, 9520, 9530, 9550(Storm2), 9570(Storm3)/Blackberry Torch Series: 9800(Torch), Torch2, 9810, 9860/Blackberry Pearl 3G Series (360*400) Devices Models: 9100, 9105, 9670(Style)/Blackberry 99XX (OS 7.0) Series (640*480) Devices Models: 9900, 9930, 9981

Description:
Now optimize your Device performance by reclaiming unused RAM periodically with Advanced RAM Optimizer!
With options like -Optimize Now and Auto Scheduler- enhance the performance of your BlackBerry®
Ram Optimizer silently works in the background and optimizes your RAM to give you a better BlackBerry® experience.
If memory is wasted, RAM Optimizer automatically recovers Lost Memory and assigns it to running applications so that your Device runs faster and smoother.