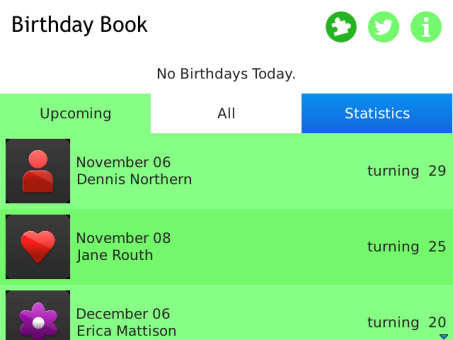 Tag:
Birthday Boo
Overview :
Birthday Book 1.1.4 for blackberry os5.0+ apps
File Size: 256 KB
Required: 5.0.0 or higher
Model: Blackberry 89XX Curve Series (480*360): 8900(Javelin), 8910(Atlas), 8930, 8950, 8980/Blackberry 90XX Bold (Onyx) Series (480*320) Devices Models: 9000, 9020(Onyx)/Blackberry 96XX Tour (Niagara) Series (480*360):9600, 9630, 9650(Tour2), 9700(Bold2), 9780, 9790, Dakota, Apollo /Blackberry 95XX Storm Series (360*480):9500, 9510, 9520, 9530, 9550(Storm2), 9570(Storm3)/Blackberry Torch Series: 9800(Torch), Torch2, 9810, 9860/Blackberry Pearl 3G Series (360*400) Devices Models: 9100, 9105, 9670(Style)/Blackberry 99XX (OS 7.0) Series (640*480) Devices Models: 9900, 9930, 9981
Description:
Something I created for myself but may prove to be useful enough for all of you :)
We use Address Book to store and view all useful information about our contacts. We store anything from email address, phone number, work information to personal information, such as birthdays, anniversary, social media.
Birthday Book is an app that allows you to keep an eye on upcoming birthdays and sort it in various ways. The app organizes your contacts' birthdays chronologically, alphabetically, or simply by date. You are also able to click on the list so that you can view related information about that person from the Address Book such as email, phone number, social media, etc.
Birthday Book is now integrated with BBM so you will be able to change your BBM personal message to wish them happy birthday automatically!
Furthermore, you can view various statistic about your contacts' birthdays such as the total number of birthdays you have in the Address Book, number of birthdays that have already passed this year, that are still upcoming, percentage of birthdays in different months, etc. Check it out yourself!
Future release will include notification system and some more interesting statistic.
** To use Birthday Book, birthday information must be included in contact entry via Address Book. Manually adding birthday information is not supported.