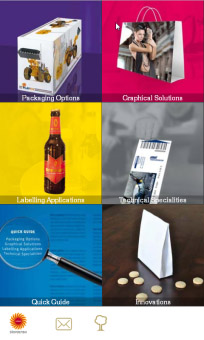 Tag:
Speciality
Papers
Overview :
Speciality Papers 0.0.1.1 for blackberry 10 apps
The Stora Enso Speciality Papers app is a practical aid for brand owners, printers, paper processors, packaging manufacturers, advertising agencies and packaging designers. It provides easy access to a quick overview of the modern speciality papers available from Stora Enso Speciality Papers. Users will find the various papers and relevant information on Packaging Options, Labelling Applications, Graphical Solutions and Technical Specialities.
"Packaging Options" include a wide range of papers with intelligent features for sales-driving packaging for many segments, including food, non-food and pet food as well as technical and electronic equipment.
Under "Graphical Solutions", users find descriptive information on the new single layer board suitable for a wide range of packaging and graphical end uses, such as folding boxes, covers, folders, cards, tags, tickets, posters, game cards and shopping bags.
"Labelling Applications" feature leading-edge label papers that have become industry standards for returnable and non-returnable packaging containers for the beverage, food and non-food industry.
"Technical Specialities" shows Stora Enso being very active in the development and production of custom made technical specialities.
These product overviews are accompanied by a "Quick Guide" that enables users to use practice-based search terms for direct access to information on the most suitable papers for a particular application. With the Quick Guide, it takes only three steps to obtain a list of recommended products.
More than ever before, brand owners throughout the world are interested in speciality papers made of raw materials from sustainable forestry operations. Information on the most recent grades developed can be found under "Innovations".
Supported Devices:
BlackBerry Q10
BlackBerry Q5
BlackBerry Z10
BlackBerry Z3
BlackBerry Z30