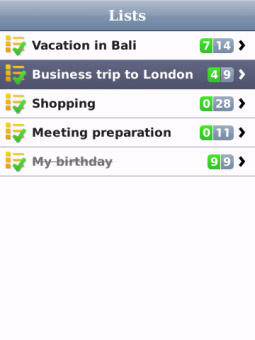 Tag:
Checklists
Overview :
If you are a easily forgetfulness man, you might as well try to use the software, through the software, you can make a table for what you want to do , finished it then ticked on, so there will be no missing, the software is very small, recommend the use of:
Version: 1.0.1
Size: 206 KB
Required Device Software Operating System: 5.0 or higher
Model:
Blackberry OS 7.1 Series: P'9981, 9860, 9850, 9810, 9620, 9360, 9350, 9320, 9310, 9220, 9930, 9900, 9790 / Blackberry OS 7.0 Series: P'9981, 9860, 9850, 9810, 9380, 9360, 9350, 9930, 9900, 9790 / Blackberry OS 6.0 Series: 9800, 9670, 9105, 9100, 9330, 9300, 9780, 9700, 9650 / Blackberry OS 5.0 Series: 9630, 9800, 9530, 9500, 9550, 9520, 9105, 9100, 9330, 9300, 8980, 8900, 8530, 8520, 8350i, 8330, 9700, 9650, 9000
Description:
CheckLists is a simple and easy to use yet flexible application for managing your everyday tasks. Use it for shopping, preparing for your vacation or business trip, planing your party or whatever activity you need to organize in a checklist. Get this application and you will never forget your checklist at home!
100% money back if you are not happy with our product (PayPal account required). Upgrades are always for free
See CheckLists in action by watching its DEMO VIDEO at
http://www.youtube.com/watch?v=NsSplcYivvw
If you want to try CheckLists before buying it, please check its fully functional FREE TRIAL version at
http://appworld.blackberry.com/webstore/content/45689
Features:
- Multiple lists
Manage as many different checklists as you need: shopping, vacation, business trip, etc. Each checklist can have unlimited number of tasks.
- Templates
Save time and avoid creating your most frequently needed lists each time from scratch. Keep them as templates for faster future usage.
- Automatic synchronization between templates and lists
If you edit a template all lists created from that template will be automatically updated with the changes.
- Quick and easy adding of new tasks
You can add a task with just a single click. Very convenient for entering multiple tasks.
- Convenient reordering of tasks
You can rearrange tasks in both checklists and templates any time you need.
- Sharing via E-mail or PIN message
Share your checklists, templates or even single tasks with your friends, family or colleagues.
- Easy monitoring of checklists' progress
The number of completed tasks vs. the total number of tasks is displayed for each checklist.
- Backup/Restore
Keep safe your current checklists in case of device crash and / or easily transfer them to a new device. Application supports both manual and configurable automatic backup. Backup is saved by default in a file in your Media Card.
If you like CheckLists, please post a review about it. For issues, comments or suggestions, please contact us at support@bulbera.com. Your feedback means a lot to us!
If you want to stay in touch with us, please use the "Newsletter" option in the menu of CheckLists or like our Facebook page at:
http://facebook.com/bulbera
We would also like to invite you to try our other products. Some of them that you will love are: Passcode Lock, Easy Lock, Alarm Clock, World Clock, Units, Menu WiFi. You can find them in BlackBerry® AppWorld by searching on vendor name "Bulbera".