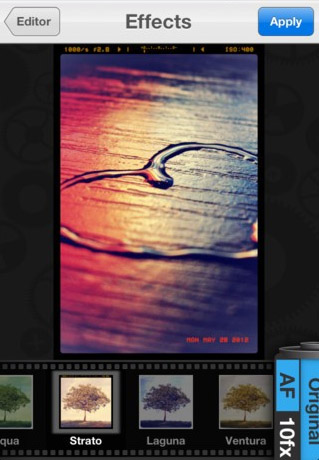 Tag: z30 apps Photo Studio
Overview :
Photo Studio PRO is a image processing software with simple using and powerful function. The user can manage all kinds of post processing for photos on the device.



Version: 0.9.19.2
Model:

Blackberry 10 Devices: Blackberry Dev Alpha, Blackberry Z10, Blackberry Z15, Blackberry Z30, Blackberry A10, Blackberry Q30, Blackberry Q10, Blackberry Q5

Blackberry Playbook: Tablet: 1.0.0 or higher / 2.0.0 or higher

Description:

Photo Studio for Android® is utilized by both amateur and professional photographers who seek simple, but powerful image processing on-the-go. Users can turn their devices into a fantastic photo editing studio.

Main features:

Ad-free. No ad banners!

150+ unique filters in categories: 'Lomo', 'Vintage', 'Simple tone', 'Black & White', 'Old Style', 'Cold tones', 'Warm tones' and 'Art'.

100+ amazing special effects: shadow, fabric, akvarel, rust, frames, scratch, light, fire, water, heart, brush, noise and many more.

About 50 free stickers and about 500 stickers in Stickers Pack by categories Animals, Romance, Plans, Monsters, Food and many more.

Sketch filters are professional tools to make you an artist by creating pencil sketch of your photos.

Magic Tools contains: Auto-Levels, Sharpening, Area-Auto-Levels, Blurring and Red-Eyes correction.

Picframes helps you combine multiple photos into amazing looking frames with 100 adjustable templates in Classic and Art categories, adjustable borders, frames, corners and backgrounds.

Free-form collage editor allows you to create amazing collages with your photos and backgrounds.

Color Splash FX with filters: create stunning artwork with your photos by removing or changing colors and combining layers.

Lens Boost – apply lens effect to your photos to get an amazing vignette effect with circle and linear (Tilt Shift) lens.

Apply set of beautiful digital frames to your photos. Available packs: Holiday Frames, Christmas Frames, Summer Frames and Valentine's Day frames. You can download and try all frames for FREE.

Add text labels to your photos with fonts, styles and colors customization.

Base photo operations: brightness, contrast, RGB color adjustment, hue, saturation, use round and linear masks to highlight appropriate parts of you photos.

Base transform operations: resize, rotate and crop.

Action Sets: collect interesting operations into action sets and apply them again to new photos.

Apply several operations to one photo: you can edit a photo and apply all features and effects to one photo at the same time.

Use photos from your gallery or from Camera.

Save the result in 3 formats: Small, Normal and Large. Save images in JPEG and PNG.

Photo Studio PRO includes all unlocked packs, tools and features.

What's New

1. Stickers pack 2 (with about 400 new stickers).

2. Selective color tool.

3. Rotate to any angle.

4. Undo/Redo operations are supported.

5. Cloning tool.

6. Textures Pack 3 with textures for Halloween.