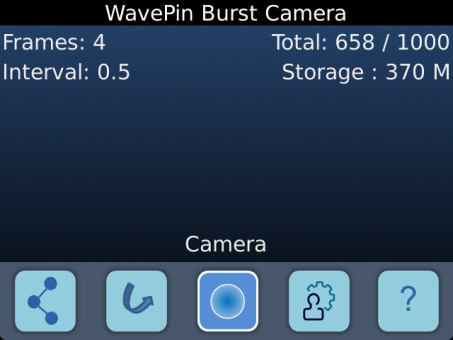 Tag:
Camera
WavePin Burs
Overview :
WavePin Burst Camera v1.0.3.391 - WavePin Burst Camera shoots up to 32 pictures per shot. It has two modes: Silent and Camera. Silent mode uses screenshot. Camera mode uses real camera (2560 X 1920 pixels). It has a built-in viewer that let you easily manage pictures. You can easily share pictures using BBM, Facebook, Twitter, and Email. The viewer supports multiple selection and deletion.

Version: 1.0.3.391
File Size: 1 MB
Required: 7.0.0 or higher
model:
Blackberry 9220, 9300(Kepler), 9320, 9330, 9350, 9360, 9370, 9380, 9620, 9790, 9350, 9360, 9370, 9850, 9860, 9900, 9930, p9981
Description:
Trial version does not expire. Trial version has limited capacity, time intervals, and frame numbers. When you reach trial capacity (100 frames total), you can use the built-in viewer to delete unwanted pictures and continue the trial.
If you experience any issue or have any suggestion please email us. You can do so from within the app.