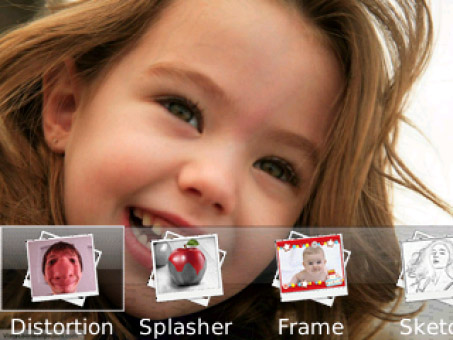 Tag:
Photo
Distortions
Overview :
Photo Distortions 2.1 for os5.0+ apps - This is the Demo Version of Your Favorite 'Photo Distortions' App!
Image Distortion Ultimate allows you to make distorted and funny images! You can apply multiple effects, for example, you can make the nose of a person on a photo bigger.

Version: 2.0
File Size: 539 KB
Required: 5.0.0 or higher
Model: Blackberry 89XX Curve Series (480*360): 8900(Javelin), 8910(Atlas), 8930, 8950, 8980/Blackberry 90XX Bold (Onyx) Series (480*320) Devices Models: 9000, 9020(Onyx)/Blackberry 96XX Tour (Niagara) Series (480*360):9600, 9630, 9650(Tour2), 9700(Bold2), 9780, 9790, Dakota, Apollo /Blackberry 95XX Storm Series (360*480):9500, 9510, 9520, 9530, 9550(Storm2), 9570(Storm3)/Blackberry Torch Series: 9800(Torch), Torch2, 9810, 9860/Blackberry Pearl 3G Series (360*400) Devices Models: 9100, 9105, 9670(Style)/Blackberry 99XX (OS 7.0) Series (640*480) Devices Models: 9900, 9930, 9981


Have a look at the screenshots to see what kind of distortions you can apply!
FEATURES:
- Easy user interface
- Load image from SD card or from camera
- Apply distortion to image by selecting the area of the image to distort
- Apply multiple effects to single image
- Effects:-
Bulge
Twirl
Diffuse
Ripple
Swim
Displace
Marble
Pinch
Water effect
Blur
Pixelate
Shear
Tint
Jitter
Offset
Tile
Emboss
Flip
Invert
Polar
- Share Distorted Image over Facebook, BBM OR Email your Friends and family members!
- Saves image to a SD card.