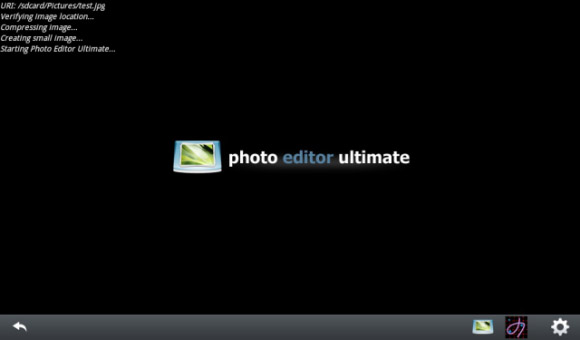 Tag:
Overview :
free Photo Editor Ultimate 6.9.7 for BB10 & PlayBook apps
File Size: 815 KB
Required: BB10 Smartphone OS 10.0.0.0 or higher

Description:
Photo Editor Ultimate is the ultimate photo editor for your BlackBerry® PlayBook™ You can edit your images easily and send them to all your friends.
If something is not working or you get an error, just contact us. Try to contact us before posting a review since we can't respond to reviews.
Will it cost me money?
You only have to pay the price once, after that you will have unlimited access to the application, including all updates!
Features:
- Rotate (set rotating angle) and/or flip (horizontal, vertical, diagonal)
- Resize (set width, height, get the size of the image)
- Crop (draw a rectangular to which the image will be cropped)
- Change the brightness, contrast and/or gamma
- Apply manual color filters (change Alpha/Red/Green/Blue and/or Hue/Saturation/Luminosity values)
- Color filters: Alien, Black & White, Channel mix, Color filter, Gain, Gamma RGB, Exposure, Gray tint, Gray scale, Infrared, Invert (negative), Map, Mask, Posterize, Quantize, Random, Rescale, Sepia, Solarize, Swap, Threshold, Transparency, Tritone
- Effects: Border, Bulge, Circle, Diffuse, Dissolve, Edge detect, Emboss, Emboss color, Fisheye, Frei-Chen edge, Gaussian blur, Jitter, Kaleidoscope, Marble, Mean removal, Mirror, Noise, Offset, Pinch, Pixelate, Polar, Prewitt edge, Reflection, Ripple, Sharpen, Smoothen, Spehere, Swim, Tile, Tilt-shift, Time-warp, Tint, Twirl, Water, Wave
- Add text using our online font database *
- Add clipart *
- Overlay a second image *
- Combine two images horizontal, vertical, diagonal and/or intertwine (enable/disable borders)
- Paint on the image **
- Apply an effect to part of the image: Bulge, Twirl, Wave, Jitter, Pixelate
- Partly color **
- Cloning tool, draw with one brush which draws what another arc is moving over **
- Save the image to the memory or sdcard using a save file dialog, overwrite the loaded image or save to the pictures folder
- Share the image (facebook, email, etc)
- Upload to TwitPic, Imgur (copies url to clipboard), Tumblr, Glowfoto (copies url to clipboard), ImageShack (copies url to clipboard), your own server (with POST)
- Preview the image (zooming supported with multitouch)
- Change the settings of the application: change image quality, change filename format, enable/disable popup on closing and change maximum width and height of a loaded image, change the amount of preview images
- select Photo Editor Ultimate when selecting a picture in your own file browser
* resize, transparency, color filters, effects, contrast, brightness, gamma, manual color filter, rotate, flip
** change brush size, transparency and/or movement
Some of the categories you get with the clipart:
Animals, Arrows, Autumn, Bikes, Birds, Bushes, Birthday, Cars, Cats, Chair, Christmas, Desert, Diamonds, Dogs, Doves, Easter, Fire, Flags, Flowers, Footwear, Fractal, Frames, Graceful Lines, Grass, Hair, Hats, Hearts, Kids, Light Effects, Marathon, Nuclear, Old, Ornaments, Other, People, Petals, Rabbits, Red Roses, Ribbons, School, Shapes, Shorts, Snowflakes, Stars, Tennis, Trees, Umbrellas, Valentine, Venezia, Words