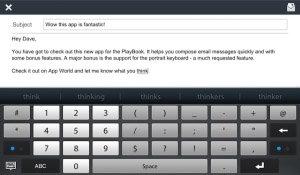 Tag:
Compose Emai
Overview :
Compose Email v1.0.0.6 for playbook os 1.0.7 + apps
File Size: 649 KB

Description:
Compose email how you want to! Featuring support for the portrait keyboard.
- Compose email in Portrait or Landscape
- Integration with the native Messages App
- Automatic copy-to-clipboard
- Copy & Paste
- Launches faster than Messages
- Matches style of the 2.0 Messages, Contacts, and Calendar apps
Even better - Compose Email is free! Sponsored by the best note pad app out there, Many Notes.
Download it today then check out Many Notes, the powerful notepad app with Drag and Drop, Auto-save, and more!
NOTE: currently there is a limit to how much text can be sent to the Messages app, but don't worry - whatever text doesn't get sent will be automatically copied to your clipboard, and can be pasted right after the text that does get sent. Please contact me before leaving a negative review - always happy to help!