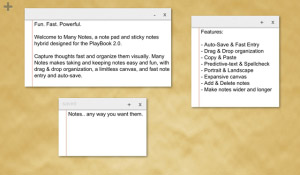 Tag:
PlayBook
Many Notes
Overview :
Many Notes v1.0.1.4 apps for blackberry playbook - A fun and flexible note pad
Required Device Software:
Tablet: 2.0.0 or higher

Description:
Many Notes is the fun, flexible, and powerful app for making and storing notes. Enables quick note taking and a visual way to organize your notes. A beautiful hybrid of a classic notes application and the flexibility of real sticky notes.
Features:
- Auto-save & Fast Entry
- Drag & Drop organization
- Copy & Paste
- Predictive-text & Spellcheck
- Portait & Landscape
- Expansive canvas
- Add & Delete notes
- Make notes wider and longer
- No titles, tagging, manual saving, or anything else to slow you down!
More features are planned in future updates.
Please contact manynotes@willw.net with any questions or comments. Would love you hear your feedback.
Many Notes is your best replacement for the MemoPad, Evernote, One Note, Simplenote, and the old-fashioned Sticky Note.