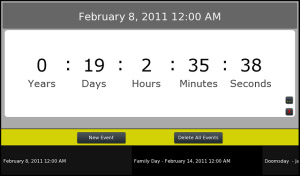 Tag:
Timer
CountDown
playbook app
Overview :
free Countdown Timer v2.2.0 for playbook apps download
Required Device Software: 1.0.0 or higher
Description:
An app to calculate the time left until an important event - deadlines, birthday celebrations, vacations, anything you want. Interface is simple to use and read. Also allows you to save multiple events and easily switch between them to see how much time is left until the event. You can also see how old something is by entering a past date, such as how old you are.
For suggestions and comments, send an email to cntdwntimer.playbook@gmail.com.