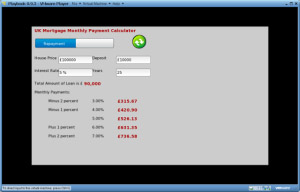 Tag:
Calculator
Mortgage
Overview :
Uk Mortgage Calculator v2.2.0
Required Device Software: 1.0.0 or higher
Description:
A Simple UK Mortgage Calculator. Enter the current price of the property, how much deposit you will pay, length of the mortgage in years and the current interest rate.
The app will then calculate how much you will pay each month using the entered interest and +-1 & +-2 percent.
This will allow you to see the effect of the interest rate raising or lowering.