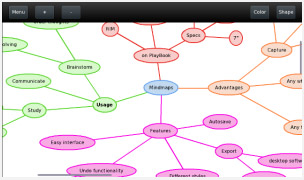 Tag:
Mindmaps
Overview :
Mindmaps V1.1.8
Required Device Software : 1.0.0 or higher
Description:
Mindmaps is a mind mapping tool and a brainstorming application. It allows you to order your thoughts, store ideas and bring structure into complex concepts. You can share your result with your colleagues and coworkers by exporting it to an image. You can easily continue your work on your desktop using Mindmaps' compatibility with Freemind.
Mindmaps allows you to store notes in a more logical and easier to understand structure. You can improve the graphic layout of your map by adding icons, changing colors or changing the shape of elements. Mindmaps was developed specifically for BlackBerry® PlayBook™.
Features:
* Create mind maps without any hassle
* Change the color and shape of elements
* Add icons to elements
* Export your creations to PNG or JPG images
* Export to Freemind format
* Intuitive interface
* Automatic save feature
* Undo/Redo functionality
Coming soon:
* Gesture support (pinch-to-zoom)
* Easily send a mind map in an e-mail