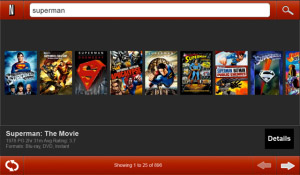 Tag:
Manager
Queue
playbook app
Overview :
free Queue Manager v1.0.11.1 playbook apps
Required Device Software: 1.0.0 or higher
Details: Queue Manager is a Netflix Queue Manager Application created with Adobe's AIR Technology.
With Queue Manager you can connect to your Netflix Queue and update your Netflix Queue on the go.
- Easily search for titles
- Organize and manage queues
- Check out recommendations
- Browse for titles
- Get information about and queue titles still in theaters
- Search and browse by your favorite actor
*Feedback Appreciated at goo.gl/5VLk
* Currently best for US users. "Pro" Product coming soon with Canada support.
*No streaming available, contact Netflix and insist on this feature!