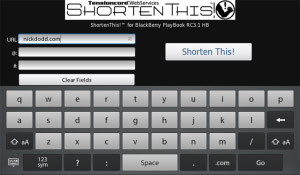 Tag:
ShortenThis
Overview :
free ShortenThis!™ v0.3.0 for BlackBerry PlayBook
Required Device Software: 1.0.0 or higher
Details: ShortenThis!™ for BlackBerry® PlayBook™ is a client application for the URL shortening service at http://tncr.ws by Tensioncore Design Studios. Shorten URLs, associate email addresses and/or phone numbers with your shortened URLs, and for each shortened URL a unique QR barcode is generated.
New features in RC3 include being able to Copy the shortened link to the Clipboard for easy use later, open any link you've shortened in the browser simply by selecting the link and hitting the thumb button to "Open in Browser!"
You can now use any ShortenThis!™ shortened link with http://shortenthis.ca, http://shortenthis.mobi and http://shortenthis.co!