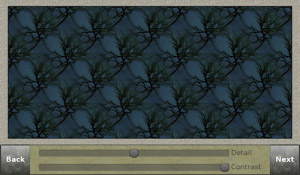 Tag:
EZTiler
playbook app
Overview :
free EZTiler v2.0.2 for blackberry playbook apps
Required Device Software: 1.0.0 or higher
Details:
Free to try. EZTiler for BlackBerry® PlayBook™ is a unique photo transformation tool for creating seamless repeating tiles.
EZTiler guides you step-by-step through a simple process of creating a seamless tile for computer wallpapers, website backgrounds, digital stationery, custom artwork, surface modeling and much more. A wide array of image subjects including textured surfaces, patterned graphics and even portraits of people can be used with amazing results.
A seamless tile is an image designed to be repeated horizontally and vertically in a grid. When normal images are tiled in this way, it is easy to spot the seams between adjacent images. With seamless tiles, adjacent images blend smoothly together so no seam is visible.
Note: Due to the unexpected delay of in-app purchase support by RIM, the current version of this app cannot be unlocked. A new version is being created to work around this issue, and is expected to be available soon. Until that version is available, it is not possible to save your created tiles.