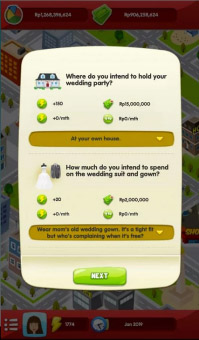 Tag:
DBS
Overview :
Bored of the usual games available for download? Try the DBS Smart Money game which lets you (or your kids) learn about financial education in a fun new way.
You will role-play as a start-up entrepreneur to manage your personal wealth. You get to decide whether to invest in equity funds, bonds, stocks, gold, properties, or to make placements into Rp or USD Time Deposits or purchase whole life insurance. At the same time, you need to make life decisions along the way about how much you want to give to your parents each month, how much you want to spend or save each month etc. And as you get tired along the way, you can play games, chat with your friends, or even go shopping to increase your energy levels!
So go on, download the game now for yourself or your loved ones so that they can become smarter about managing their money, and most importantly, it's fun! Compete among yourselves to see who can accumulate the greatest wealth while staying healthy and energetic!
Supported Devices:
BlackBerry Z10
BlackBerry Z3
BlackBerry Z30