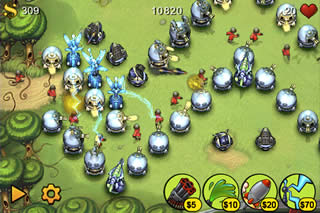 Tag:
FieldRunners
Overview :
free FieldRunners for blackberry games download
Fieldrunners is a quality little game from SubAtomic Studios (Look, they're on Twitter!). The premise is simple: you build defenses to kill a seemingly endless assault of bad guys who are trying to get from one side of the screen to the other. If you've ever played Tap Defense, you'll understand how to play Fieldrunners.
The graphics in Fieldrunners are absolutely superb. The multi-touch support is great, too, allowing you to zoom in to or out of the game screen. The towers are all well animated, and the enemies are actually quite fun to watch. They're well articulated.
The sounds are fantastic, too. The repetitive footstep sounds of the enemies, the squelching of the goo towers, and the crackle of the Tesla coils are all top-notch. The sound track is terrific, too: much better than I had expected it to be.
Model:
Blackberry 8350i (320*240) Related Devices Model: 8500, 8520, 8530, 9300(Kepler), 9330/Blackberry 83XX Series (320*240) Curve Devices Models: 8300, 8310, 8320, 8330 / Blackberry 87XX Series (320*240) Devices Models: 8700c, 8700r, 8700f, 8700g, 8703e, 8707, 8707g, 8707v .etc /Blackberry 88XX Series (320*240) Devices Models: 8800, 8820, 8830 .etc /Blackberry 89XX Curve Series (480*360): 8900(Javelin), 8910(Atlas), 8930, 8950, 8980/Blackberry 90XX Bold (Onyx) Series (480*320) Devices Models: 9000, 9020(Onyx)/Blackberry 96XX Tour (Niagara) Series (480*360):9600, 9630, 9650(Tour2), 9700(Bold2), 9780