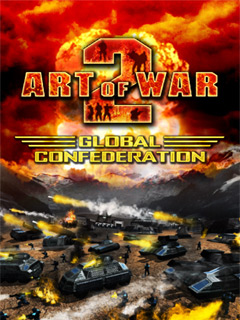 Tag:
art
Confederatio
Overview :
Real time strategy "Art of War 2: Global Confederation" is a combination of dynamic gameplay and tactical depths. This game focuses your attention on
nothing but battle action and military base construction. There is no need to mine recourses as they are now gained automatically. You can lead an army in campaign mode or play in individual scenarios. Additional maps can also be downloaded from our servers.
In campaign mode you must complete 7 missions in different locations from the Amazon rainforest to the Andes Mountains defeating the rebellion of resistance forces in Peru.
"Art of War 2"captivates you with a great variety of units and structures. All of them have unique parameters and upgrades.
"Art of War 2: Global Confederation" – get your own pocket army.

Game Features
Scenario and campaign modes
7 missions in a campaign mode
Ability to download new maps
A great amount of units, buildings and tactics for battle
Dynamic and captivating gameplay
Model:
Blackberry 82XX Series (240x320) Pearl Flip Devices Models: 8200, 8220, 8230/Blackberry 8350i (320*240) Related Devices Model: 8500, 8520, 8530, 9300(Kepler)/Blackberry 83XX Series (320*240) Curve Devices Models: 8300, 8310, 8320, 8330 / Blackberry 87XX Series (320*240) Devices Models: 8700c, 8700r, 8700f, 8700g, 8703e, 8707, 8707g, 8707v .etc /Blackberry 88XX Series (320*240) Devices Models: 8800, 8820, 8830 .etc /Blackberry 89XX Curve Series (480*360): 8900(Javelin), 8910(Atlas), 8950/Blackberry 90XX Bold (Onyx) Series (480*320) Devices Models: 9000, 9020(Onyx)/Blackberry 96XX Tour (Niagara) Series (480*360):9600, 9630, 9650(Tour2), 9700(Bold2) /Blackberry 95XX Storm Series (360*480):9500, 9510, 9520, 9530, 9550(Storm2), 9800(Torch)/Blackberry Pearl 3G Series (360*400) Devices Models: 9100, 9105