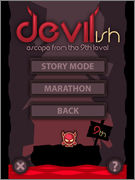 Tag:
Devilish
Overview :
Devilish for blackbery Torch2 games

Help little Dante escape through the 9 levels of Hell!!!
This high action, fast paced adventure through Hell will set your BlackBerry on fire with power ups, challenges and a variety of villians! Jump from platform to platform as you avoid the various challenges including flying demons, flaming arrows, and the three headed Cerberus! Can you last through all 9 levels?
There's only one way to find out!
—Instructions—
Press the left side of the screen to Jump Left and the right side to Jump Right. The longer you press the further in each direction Dante will jump.
If you like, support the developer and make a purchase.
Cheers
Model:
Blackberry 95XX Storm Series (360*480):9500, 9510, 9520, 9530, 9550(Storm2), 9570(Storm3), 9800(Torch), Torch2