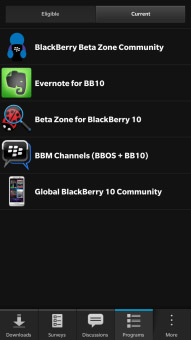 Tag:
Classic apps
BlackBerry Beta Zone
Overview :
BlackBerry Beta Zone 10.3.1 for blackberry apps
With the BlackBerry Beta Zone app, you can test and contribute to BlackBerry 10 beta products before they are ready for the public. Have your say through email feedback and discussions with other Beta Zone members. Complete surveys to help development teams improve quality and prioritize new features.
Available features:
- Easily create a Beta Zone profile (for new users)
- Automatic sign-on with your BlackBerry ID
- Download beta applications for BlackBerry 10 devices
- Tell us what you think through the Feedback form, Discussion Boards, and Surveys
- Join the BlackBerry 10 Global Community to help us improve the BlackBerry 10 platform
In order to use this application to access BlackBerry Beta Zone, you must be a registered member of BlackBerry Beta Zone. If you are not currently a member, you will be prompted to enroll for a Beta Zone user account.
*Your use of this software is governed by the BlackBerry Solution License Agreement for your jurisdiction ("BBSLA"). If you do not already have a copy of the BBSLA, it can be found at www.blackberry.com/legal.
Supported Devices:
BlackBerry Classic
BlackBerry Leap
BlackBerry Passport
BlackBerry Passport Silver Edition
BlackBerry Q10
BlackBerry Q5
BlackBerry Z10
BlackBerry Z3
BlackBerry Z30
Porsche Design P9982
Porsche Design P9983