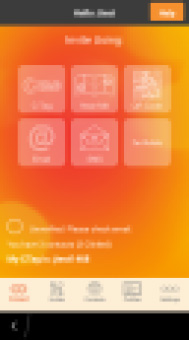 Tag:
Contactable
Overview :
Contactable Application 1.0.24 for blackberry apps
Contactable is a mobile app that allows you to connect with individuals or organisations
and will ensure that you never lose each other's contact details.
Contactable simply synchronizes to your mobile device's address book straight from the app ensuring that your family and friends latest contact details are in your device for life.
Features:
* Synchronizes into your device's address book in real time
* When one of your contacts updates their phone number or email address Contactable
will automatically push their info for you straight into your address book
* Easily restore your contacts when you have lost or broken your phone
* Ensures all information exchanged remains secure and private fully POPI compliant
* Allows individuals and organisations to share contact information automatically almost like
a real time digital telephone directory
* Always be contactable even when your land-lines are down by simply updating your
profile with a temporary emergency number
*Organisations are able to find out more in-depth information about their clients all through one application
Coming Soon...
New and exciting features that include document storage and sharing contact groups and broadcasting.
Supported Devices:
BlackBerry Q10
BlackBerry Q5
BlackBerry Z10
BlackBerry Z3
BlackBerry Z30