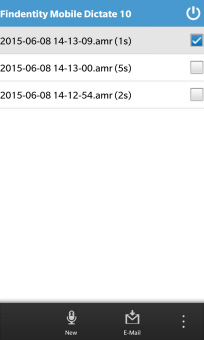 Tag:
Findentity
Overview :
Findentity Mobile Dictate 10 v1.0.1.32 for blackberry 10 apps
"Findentity Mobile Dictate 10" turns your BlackBerry smartphone into a professional dictaphone with simple and intuitive thumb operation. This simplifies the creation of long dictations or voice mails with forward and rewind function, insertion, deleting and overwriting of sections.
You control the audio recording/audio playback by sliding gestures. To do so, it is not necessary to exactly strike the slide control. The central slide control can be docked in three vertical positons. Change the position of the slide control by sliding movements (vertically). Starting from the positions STOP or PLAY you have the option to fast forward or rewind by horizontal shifting. Starting from the REC position you can only change over to the STOP position.
"Findentity Mobile Dictate 10" for BlackBerry 10 follows the popular "Findentity Mobile Dictate" for the former BlackBerry OS. The clear new user interface helps to recognise all functions at a glance. With dictation priorities, the recipient immediately knows how to process the file.
A separate dictaphone for mobile use will no longer be necessary and this system even offers many more functions. Your BlackBerry smartphone is your dictaphone with e-mail dispatch function and all other functions of a smartphone.
The AMR format used for speech recording is smaller than DSS format, which is commonly used for professional purposes, and up to 20 times smaller than WAV format, which ensures a very fast e-mail dispatch.
Thax Software offers exceptionally user-friendly dictation and office management systems and optionally also offers speech recognition.
Supported Devices:
BlackBerry Classic
BlackBerry Leap
BlackBerry Passport
BlackBerry Q10
BlackBerry Q5
BlackBerry Z10
BlackBerry Z3
BlackBerry Z30
Porsche Design P9982
Porsche Design P9983